American Tales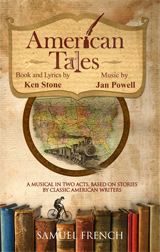 American Tales, two one-act musicals based on short stories by classic American writers. Book and lyrics by Ken Stone. Music by Jan Powell. Cast size, 5 (4 m, 1 f). Ninety minutes plus intermission. Both use period costumes and set pieces, mid to late 19th century.
Act I, The Loves of Alonzo Fitz Clarence and Rosannah Ethelton, is a free adaptation of Mark Twain's wry look at that new invention, the telephone. Mark Twain was perhaps the first to write the story of two people falling in love at a great distance with the aid of technology. Alonzo in Maine and Rosannah in California meet by the accident of crossed wires and fall instantly in love, or at least each falls in love with an imagined ideal of the other. So complete is their self-deception that even when brought face to face they cannot recognize each other. Love is found, love is lost, love is found again, and even after their long-distance wedding takes place, Alonzo and Rosannah feel only faint stirrings that something may be missing from their lives. The wisdom of an older generation is all that saves them from themselves and ultimately sends them into each other's arms. Played straight as period melodrama without any attempt to force reference to our own times, the relevance to 21st century dating habits is nevertheless clear.
Act II is Bartleby, the Scrivener, dramatized from Herman Melville's slyly funny but ultimately tragic story. Building on the theme of human connections made and missed, this act takes a turn to a darker side, looking at people who occupy the closest of quarters and yet don't really communicate at all. In a law office of the 1840s, men are employed day upon day for a lifetime, copying out the words of others. Bartleby takes employment in such a position, and as long as he does his work well as a mere cog in a machine, he is taken for granted and the office operates smoothly. When, inexplicably, he begins to refuse to work, the efficient operation of this previously secure little world is destroyed. For the first time, Bartleby's colleagues are forced to look beyond the question of what work a man can perform, to the enigma of the man himself. Bartleby's secrets will remain his alone, but the people around him are left with a transforming question that ends the play: What do we owe to the people who come into our lives?
Read the reviews of the premiere production.
Published by Samuel French.