Overland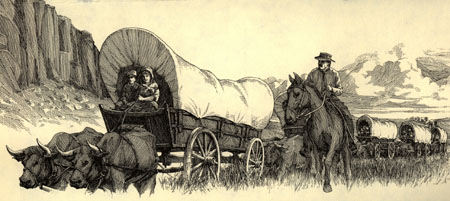 Grand Prize winner of the American Musical Theater Festival contest for new musicals
Best of the Fest at New Tuners, Chicago. "The music has sweep and variety … period Americana with contemporary dissonances … the lyrics are simple but not predictable. A big hit." PerformInk
Overland is a full-length musical with book and lyrics by Ken Stone and music by Jan Powell, about people caught up in the American westward movement. The year is 1844, when the crossing from Missouri to Oregon by ox-drawn wagon is still a new and uncertain undertaking. But the focus is on the very emotional human stories inside the historical events. The tone is serious, at times even tragic, but ultimately this is a tremendously uplifting story of perseverance and hope for the future.
A large-cast show for:
ambitious college groups with strong theater and music department collaborations
really ambitious high school groups. If you can sing it you can stage it
community theaters with larger performance spaces
civic light operas
What it requires
Strong singing actors.
What it does not require
Elaborate sets, wagons, or onstage animals. Please.
Staging
The show can be performed very effectively on a nearly bare stage. The staging concept calls only for a nonrealistic set of platforms, ramps, and varied spaces, artfully lit.
Music
Whether played by piano and small combo or a full orchestra, the music soars, with folk-influenced ballads, choral ensembles, and dances.
Casting
Principal Characters (click or tap the character name to listen) ♫
| | |
| --- | --- |
| Phoebe | mezzo soprano, mid-40s |
| Sarah | soprano, about 20 |
| Andrew | tenor, about 20 |
| Joseph | baritone, mid-30s |
| Ulysses | boy soprano or tenor, about 14 |
| Maudie | soprano, mid-30s |
| Kitt | baritone, 30 to 50 |
| Isaac | tenor, mid-40s |
The supporting roles bring the total cast requirements to 10 men, 6 women, 2 boys, and 1 girl. At a minimum it can be done with 16. On the other hand, a producing group that wants to expand the chorus can certainly do so.
With a few exceptions it should be a young cast, typical of the people who made the journey in real life.
Video
Watch a video clip of the first ten minutes of the show in a staged reading.
Get inspired
Read a superb historical note that inspired us. Let it inspire you too.
Availability
Licensed by the authors. Write to us for more information.